About us... Or rather, about me:
As Wine Charms is a company founded and run as one Woman show by Isabel Kottmann.
My love for wine was ignited during the year I spent as an AuPair near Bordeaux in France (my host family regularly indulged in the pairing of oysters with claret – whilst I had a very strong preference for claret without the oysters...).
After two years as a hotel apprentice in the Maritim Grand Hotel in Hanover, Germany, and subsequent on-trade experience in Maritim's upscale restaurants, I got itchy feet again and again and again: To begin with, they carried me once around the world, as a hotel assistant onboard a cruise ship, MV Astor. Before and during my studies of business administration at Trier University, I undertook traineeships with wineries in France (Château Lascombes, Margaux) and Chile (Viña Casa Donoso, Talca) as well as with the Mosel region's national marketing agency. I wrote my final thesis on ubiquitous computing during an eight month traineeship at the German Industry and Commerce's Tourism and Trade Fair Departments in Hong Kong.
And from this experience, my two great passions were born – wine and tourism.  Now, after 4 exciting years working in export and marketing for a German winery, and having successfully passed the Wine and Spirit Education Trust (WSET®) Diploma in London,  the time has come to realise my dream. Wine Charms would like to enchant you as well - let's discover the fascinating world of wine together and enjoy the adventures it has to offer.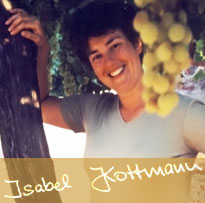 The experiences, qualifications and encounters of my life hitherto self-assemble in Wine Charms to form a colourful mosaic. I am very much looking forward to adding many new pieces to this mosaic with you.
Kind regards,
Isabel Kottmann